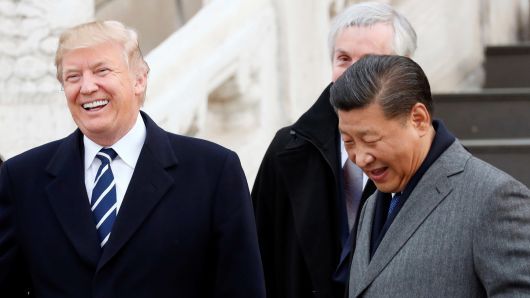 China's power may have been overrated and the U.S. economy is staying strong, meaning that U.S. President Donald Trump has an advantage in the trade war, according to one expert.
"We have to realize that perhaps China isn't as strong as when we at first think. China is still figuring out also how to deal with this trade situation, how to ensure the stability of its domestic economy," said Curtis Chin, an Asia fellow at economic think tank the Milken Institute.
"And that works to the advantage of President Trump, and I think what's really working to the advantage of President Trump is the state of the U.S. economy right now. Really, the U.S. economy is firing on all cylinders," he told CNBC's "Squawk Box" on Monday.
That economic strength would give Trump a "backstop" if the trade situation deteriorates in the long run, Chin said.
Chin told CNBC he "totally" disagreed with the view that the White House's policies are backfiring. The Milken expert, who was also U.S. ambassador to the Asian Development Bank, said Trump has made it clear he's been elected as "president of Americans, not of the world."
"Right now we're seeing record employment in the U.S., not just unemployment down, but people getting back into the economy, that people think they can find a job if they start looking again. I think that's a positive message," he said.
Chin also suggested that, going by the rhetoric in Chinese state media, Beijing has not been as aggressive toward Trump as expected. The second-largest economy is still figuring out its game plan, he said.
The decision from China's leadership will ultimately impact more than just the U.S.
"How will China's future actions play out with regards not just military like the South China Sea, but will these trade tensions lead to China beginning to dump products, products they can no longer sell in the U.S., into the rest of the region," he said. "I think that's a significant concern for Asian companies, for Southeast Asian companies that I deal with."